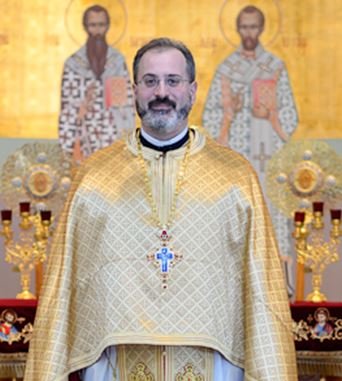 Parish Priest:  Oikonomos Father Konstantine Chatzis, B. Sc., B.Th., M.Th.
Fr. Konstantine is a native of Toronto, Ontario being raised in North York and later Downtown.  He grew up attending the Greek Orthodox Communities of All Saints, St. Irene, and Metamorphosis Tou Sotiros in Toronto.  Fr. Konstantine along with his family was very much involved in the life of the Church.  He participated in the Greek Language and Sunday Schools, Oratorical Festivals, Youth and Athletic programs, Metropolis Youth conferences; he was the Canadian representative to the World Youth Council of Hellenes Abroad (SAE), and a Camp counselor at the Metamorphosis Greek Orthodox Summer Camp.
After receiving his Bachelors of Science (B.Sc. in Biology) from the University of Toronto in 1997, Fr. Konstantine studied at the Toronto Orthodox Theological Academy where he received his Bachelors of Theology (B.Th Class Valedictorian 2001).  He then continued his studies at St. Vladimir's Orthodox Theological Seminary in Crestwood, New York; receiving his Masters of Theology (M.Th 2003) with a focus in Liturgical Theology.
In 2003,  Fr. Konstantine married his wonderful wife Presbytera Stamatia originally from Ajax, Ontario. They have a beautiful daughter Evangelia.
He served as a Pastoral assistant in 2002 at All Saints Greek Orthodox Church in North York, Ontario and in 2003 at Prophet Elias Greek Orthodox Church in Mississauga, Ontario.  Fr. Konstantine was ordained a Deacon on December 13, 2003 by His Grace Bishop Christopher of Andida at St. Nicholas Greek Orthodox Church in Scarborough, Ontario and a Priest on January 10, 2004 by His Eminence Metropolitan Sotirios at Sts. Peter and Paul Greek Orthodox Church in Kitchener, Ontario.  He served briefly at St. Nicholas Greek Orthodox Church in Scarborough and then served from March 2004 – August 2019 as the presiding Priest at Sts. Peter and Paul in Kitchener as the first Canadian born clergyman to serve their community.  On May 21, 2012, Fr. Konstantine received the Ecclesiastical Award (Offikion) of Oikonomos.
His main areas of ministry have been community growth, Worship, Administration, Education of Faith, Youth and Seniors programing, Summer Church Camp and Church beautification.  Fr. Konstantine has been appointed Professor of Liturgical Theology at the Toronto Orthodox Theological Academy (2004-present) and has served two terms on the Presbyters Council (2008-2012).  To relax, Fr. Konstantine enjoys his family, music, gardening, and travelling.