Why become an active member of Philoptochos?
The benevolent works of Philoptochos are a continuation of Christ's ministry on earth. Each member has an opportunity, through her participation in the ministries and programs of Philoptochos, to return to God a portion of the time, talents and resource with which He has gifted her. Most importantly, a member reaps the rewards that fellowship and sisterhood can offer to enrich her life.
Board Members:
President:
Penney Kerhoulas, 519-439-0032 or [email protected]
Vice President:
Karen Katsiroumbas
Recording Secretary:
Voula Vasiliou
Correspondence Secretary:
Treasurer:
Maria Karidas
Past President & Advisor:
Antonia Albin
Members of the Board:
Presbytera Diane Chelonis
Patra Demetrios
Anna Liounis
Soula Fabrikis
Karen Giouriotis
Sue Tsamis
Georgia Tzortzis
Dena Protopapas
Sophia Catsamoundis
Philoptochos's Obligations National & Local Projects
"It is More Blessed to Give Than to Receive" (Acts 20:35)
«Μακάριόν ἐστι μᾶλλον διδόναι ἤ λαμβάνειν» (Πραξ. κ´ 35)
National Philoptochos Society
Greek Orthodox Metropolis of Toronto (Canada)
Fire Victims of Greece
Metamorphosis Greek Orthodox Summer Camp
Hellenic Home for the Aged
Hospital funded and built by Philoptochos in Albania
The London Chapter is a donor of The William Singeris National Centre for Myotonic Dystrophy
Koats for Kids, Memorial Boys' and Girls' Club
Canadian Cancer Society, Daffodil Days in support of Breast Cancer\Heart and Stroke Foundation
Autism Society of Canada
Harvest Thanksgiving Dinner – Open Invitation to youth of this community and Greek Orthodox you
Attending school who do not have family and friends.
Metropolis Mission Services (raises funds to assist Orthodox youth around the world)
Hellenic Dancers of London
Completed Projects within the Church: Icon of Theotokos, Iconostatis, Church Hall
Christian Children's Fund International
Battered Women and Children / Women's Community House / My Sister's Place
Food Bank / Emergency Services
Important Dates/Events/Fundraisers throughout the Year: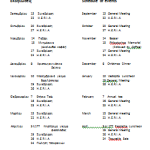 Philoptochos general meetings 2018-19
Regular Meetings of the General Membership take place every third Tuesday of the month (unless otherwise noted) at 7:00pm in the East Room of the Hellenic Community Centre.  Below is a past schedule of Annual events.  For the actual schedule please click on above links.

Month
Events
September
- Obligation: Theological Academy
- Outreach: Philoptochos prepared Muffins/Cookies at Ronald - MacDonald House
October
- Community Bazaar: Cherry Hill Mall
- Outreach: Harvest Thanksgiving Dinner for University and College Students
November
- Philoptochos' Memorial Service and Coffee
- Annual Philoptochos Christmas Bazaar
- Outreach: Koats for Kids
- Obligation: Ecumenical Patriarchate
- Scholarship: Greek School
December
- Annual Christmas Dinner and recognition of the Annual Ontario Volunteer Service Recipients/Fundraiser in support of Women's Community House/My Sister's Place/Food Bank
- Outreach: Tree of Hope supporting My Sister's Place
January
- Godparent's Sunday in concert with the Annual Vasilopita Luncheon (Obligation)
February
- Annual Philoptochos's Tea in support of the Holy Trinity Greek Orthodox Community and the Heart & Stroke Foundation
- Outreach: Philoptochos prepared Breakfast at Ronald MacDonald House
- Obligation Orthodox Voice - Artoclasia: St. Philoteir, Patron Saint of Philoptochos
March
- Southwestern Ontario Philoptochos' Retreat
- Guest Speaker at Regular Meeting: My Sister's Place
- Fasolatha Dinner
April
- Community Bazaar: Cherry Hill Mall
- Dressing of the Epitaphion/ Making of the Palm Crosses
- Annual Bake Sale - Tsourekia/Koulouria/Easter Baskets
- Visitation for Shuts Ins
- Donation: Canadian Cancer Society Daffodil Days
May
- Obligation: Missions
- Outreach: Philoptochos prepares Muffins/Cookies at Ronald MacDonald House
- Scholarship: UWO
June
Closing Social
 A Brief History of Philoptochos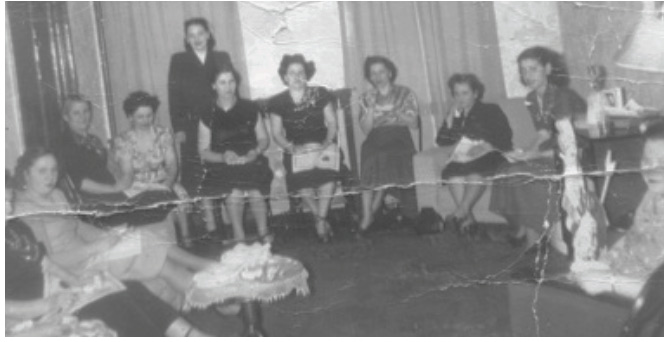 On December 8th, 1943 the Greek Ladies Society of London was formed with 14 members who elected Mrs. Aspasia (Peter) Liabotis as their first President. On January 6th, 1955, in conjunction with the opening of the Holy Trinity Greek Orthodox Church, and under the leadership of Mrs. Vasiliki (Philip) Kapelos the Greek Ladies Society became the Greek Ladies Philoptochos Society of London and Vicinity. On June 6th, of that same year, at the dedication 'eggainia" of our church, Philoptochos donated $2386. to name our church "Holy Trinity".
Our Philoptochos chapter has grown from 14 to 153 (in 2001) proud members. Philoptochos means "friends of the poor" but not only in the sense of financial and material resources. Philoptochos also aids people who are poor in spirit, poor in health, poor in emotional stability, poor in companionship, and those poor in whatever is needed to lead a fulfilling life. Philoptochos is the right arm of the Orthodox Community and is always prepared to assist whatever and whenever needed.
2017 Christmas Dinner 
Fr. Demetre is joined by the Community President, Philoptochos Board, general membership and friends of Philoptochos